SCUBA Diving Courses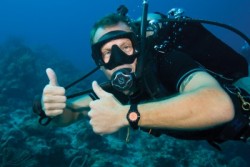 Charlie Stirling, owner of Boise Scuba Center, leads our SCUBA diving courses and has been training divers for over 30 years in Idaho. He knows his stuff! Although Charlie does not teach all the courses he does hand pick intructors that are very knowledgable, very safe, and fun to learn from. We boast the best instructors anywhere!
---
Once you have earned your Open Water Diver certification you can continue your education with a certification as an Advanced Open Water Diver, any of the exciting Specialty Courses, Rescue Diver or one of the Leadership Courses.